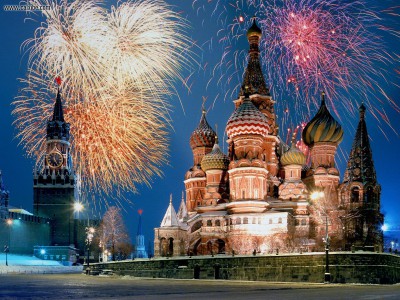 Like the whole world, Russian people love celebrating their holidays. Celebrations in Russia reflect many aspects of its history, culture and traditions. Some Russian festivities are official public holidays and government offices, schools and banks have their days off.  These are New Year (January, 1st – 5th), Orthodox Christmas (January, 7th), Defender of the Motherland Day (February, 23rd), International Women's Day (March, 8th), Spring and Labour Day (May, 1st), Victory Day (May, 9th), Russia Day (June, 12th), National Unity Day (November, 4th) and Constitution Day (December, 12th).
The Russians usually celebrate holidays with plenty of food and presents. The most popular holiday is New Year's Day. Russian people decorate fir-trees, cook delicious meals, make fireworks. All children wait for Father Frost and his granddaughter Snegurochka to get presents from them. On Christmas people visit their relatives and friends and tell fortunes.
Defender of the Motherland Day is also known as Men's Day because all Russian men and boys, active servicemen and war veterans get warm greetings and special presents from their families, friends and colleagues. International Women's Day has been celebrated in Russia since 1913 and it is the day for all mothers, sisters, wives, daughters and girlfriends. Spring and Labour Day appeared in Russia on the 1st of May in 1890 after the strike of Chicago workers who demanded an 8-hour working day.
Victory Day is a sacred and dramatic holiday for Russia. The whole country commemorates millions of victims of the Great Patriotic war. Russia Day became a national holiday after the Declaration of Sovereignty was adopted in 1991.  And National Unity Day commemorates the liberation of Moscow from Polish occupation in 1612 and it is celebrated with parades. Constitution Day is a celebration of the adoption of the Russian Federation Constitution in 1993.
Unofficial Russian holidays are also observed. There are religious and foreign celebrations among them:  Old New Year (January, 14th), St. Valentine's Day (February, 14th), Orthodox Easter Sunday, Maslenitsa, Cosmonaut's Day (April, 12th), Halloween (October, 30th) and Mothering  Sunday (in November).  
Some Russians celebrate the New Year according to the Julian calendar that was used in Russia before 1918 and they call this holiday Old New Year. Easter is always celebrated with painted eggs and church services. Maslenitsa is a holiday of meeting the Russian spring with such rituals as eating pancakes and burning a dummy of winter.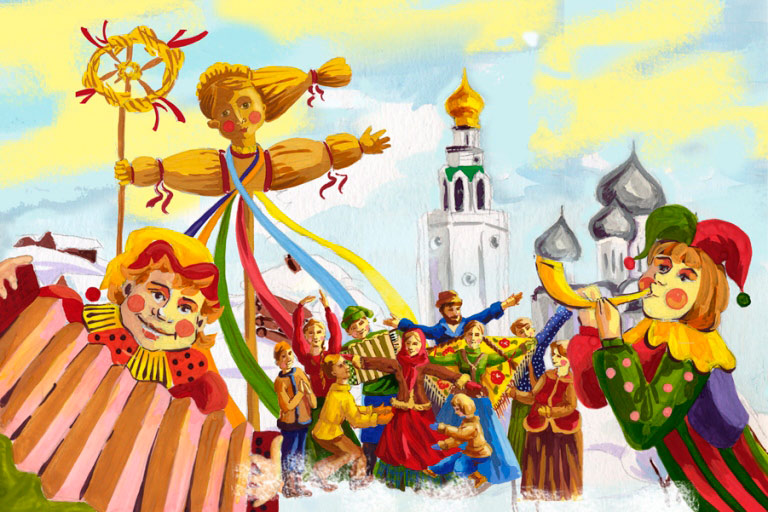 Перевод
Как и весь мир, русский народ любит отмечать праздники. Торжества в России отражают многие аспекты ее истории, культуры и традиции. Некоторые русские праздники являются официальными общественными праздниками, и у правительственных учреждений, школ и банков в эти дни выходной.  Это Новый год (1-5 января), православное Рождество (7 января), День защитников Отечества (23 февраля), Международный женский день (8 марта), День Весны и Труда (1 мая), День Победы (9 мая), День России (12 июня), День Национального единства (4 ноября) и День Конституции (12 декабря).
Русские обычно отмечают праздники обилием еды и подарков. Самым популярным праздником является Новый год. Русский народ украшает елки, готовит вкусные блюда, устраивают фейерверки. Все дети ждут Деда Мороза и его внучку Снегурочку для того, чтобы получить от них подарки. На Рождество люди навещают своих родственников и друзей и гадают.
День Защитников Отечества также известен как День мужчин, так как все русские мужчины и мальчики, все состоящие на военной службе и ветераны войны получают теплые поздравления и особые подарки от своих семей, друзей и коллег. Международный Женский день празднуется в России с 1913 г., и это день для всех матерей, сестер, жен, дочерей и любимых девушек. День Весны и Труда появился в России 1 мая 1890 г. после забастовки рабочих Чикаго, которые требовали 8-часовой рабочий день.
День Победы – священный и драматичный праздник для России. Вся страна чтит память миллионов жертв Великой Отечественной войны. День России стал национальным праздником после принятия Декларации о Суверенитете в 1991 г.  А День Национального единства напоминает об освобождении Москвы от польской оккупации в 1612 г, и отмечается проведением парадов. День Конституции является празднованием принятия Конституции РФ в 1993 г.
Существуют также и неофициальные русские праздники. Среди них есть религиозные и иностранные торжества: Старый Новый год (14 января), День св. Валентина (14 февраля), православная Пасха, Масленица, День Космонавтики (12 апреля), Хэллоуин (30 октября) и День Матери (в ноябре).
Некоторые русские отмечают Новый год  согласно Юлианскому календарю, который использовался в России до 1918 г., и называют его Старым Новым годом. Пасху всегда отмечают крашеными яйцами и торжественными богослужениями. Масленица – это праздник встречи русской весны с такими ритуалами, как  угощение блинами и поджигание чучела зимы.
Тема «Праздники России» (Russian holidays) — 4.1 out of
5
based on
91 votes
Топик (сочинение) по английскому языку на тему «Праздники России / Russian holidays»
Множество праздников России
Весь список топиков на тему «Праздники России / Russian holidays» смотрите здесь
There are many national holidays in Russia, when people all over the country do not work and have special celebrations. The major holidays are: New Year's Day, Women's Day, May Day, Victory Day, and Independence Day.
The first holiday of the year is New Year's Day. People see the new year in at midnight on the 31st of December. They greet the new year with champagne and listen to the Kremlin chimes beating 12 o'clock.
There are lots of New Year traditions in Russia. In every home there is a New Year tree glittering with coloured lights and decorations. Children always wait for Father Frost to come and give them a present. Many people consider New Year's Day to be a family holiday. But the young prefer to have New Year parties of their own.
A renewed holiday in our country is Christmas. It is celebrated on the 7th of January. It's a religious holiday and a lot of people go to church services on that day.
Non-official «Men's Day» is the 23d of February, it is a public holiday called «The Homeland Defenders Day». All men in Russia are liable for call-up (including reservists), so they all are celebrities. On this day women usually give men small gifts.
On the 8th of March we celebrate Women's Day when men are supposed to do everything about the house and cook all the meals. This is pretty nice — at least once a year women can take a break and forget about all those dishes, cooking, kids, take a magazine and relax on a coach.
The 1st of May is the Day of Labour. During Soviet time there were huge demonstrations on this day, as everybody was obliged to show his loyalty to the state; now only communists organize meetings on this date.
The greatest national holiday in our country is Victory Day. On the 9th of May, 1945, the Soviet Army and its allies completely defeated the German fascists and the Second World War and the Great Patriotic War ended. A magnificent memorial on Poklonnaya Gora has been built to commemorate the Victory. Many veterans take part in the military parade and lay wreaths on the Tomb of the Unknown Soldier. Radio and television broadcast popular war songs. A lot of guests from different countries of the . world come to Moscow to participate in the celebrations.
Independence Day is anew holiday in our country. On the 12th of June, 1992, the first President of Russia was elected.
The 1st of September is the Day of Knowledge — it's the beginning of a school year. Children go to schools with flowers for teachers, there are meetings before the classes start.
The 12th of December — the Constitution Day. This day the first Constitution of the Russian Federation was adopted in 1993 (previous Constitutions were all Soviet Unions).
Russians love to celebrate. We adopted the Western holidays such as St. Valentine, and Halloween. We also appreciate Chinese New Year, Muslim and Jewish holidays, as Russians are very tolerant to other religions.
We also celebrate Easter and lots of professional holidays which are not public holidays and banks, offices and schools do not close.

Перевод:
В России есть много национальных праздников. Люди во всей стране не работают и проводятся специальные торжества. Главные государственные праздники: Новый год, 8 Марта, 1 Мая, День Победы и День Независимости.
Первый праздник года — Новый год. Люди встречают новый год в полночь 31-го декабря. Они встречают новый год с шампанским и слушают бой Кремлевских курантов, отсчитывающих 12 ударов.
Существует много новогодних традиций в России. В каждом доме есть новогодняя елка, сверкающая цветными огнями и украшениями. Дети всегда ждут, чтобы пришел Деда Мороз и подарил им подарки. Многие люди полагают, что Новый год — семейный праздник. Но молодежь предпочитает устраивать собственные новогодние вечеринки.
Возобновленный праздник в нашей стране — Рождество. Он отмечается 7-го января. Это — религиозный праздник и много людей идут на церковные службы в этот день.
Неофициальным «Мужским днем» является 23-е февраля, это — праздник, который называется «День Защитника Отечества». В этот день женщины обычно дарят мужчинам небольшие подарки.
8-го марта мы празднуем Женский День, когда мужчины, как предполагается, делают все по дому и готовят всю еду. Это довольно таки хорошо — по крайней мере один раз в год женщины могут отдохнуть и забыть обо всех этих тарелках, приготовлении, детях, взять журнал и расслабиться на кушетке.
1-го мая — День Труда. Во времена Советского Союза в этот день проводились огромные демонстрации, так как каждый должен был показать свою преданность государству; сейчас только коммунисты организовывают митинги в этот день.
Самый большой национальный праздник в нашей стране — День Победы. 9-го мая 1945 г. советская армия и ее союзники полностью одержали победу над немецкими фашистами и Вторая Мировая война и Великая Отечественная война закончились. Величественный мемориал был построен на Поклонной горе, в честь ознаменования победы. Многие ветераны принимают участие в военном параде и возлагают венки к могиле Неизвестного Солдата. Радио и телевидение передают популярные военные песни. Много гостей из разных стран мира приезжает в Москву, чтобы участвовать в празднованиях.
День независимости — новый праздник в нашей стране. 12-го июня 1992 г. был избран первый президент России.
1-го сентября — День Знаний — это начало учебного года. Дети идут в школы с цветами для учителей, перед началом занятий проводятся линейки.
12-го декабря — День Конституции. В этот день в 1993 г. была принята первая Конституция Российской Федерации (предыдущие были Конституциями Советского Союза).
Русские люди любят праздновать. Мы переняли западные праздники, такие как день Св. Валентина и Хэллоуин. Мы также относимся с уважением к китайскому Новому году, мусульманским и еврейским праздникам, поскольку русские очень терпимы к другим религиям.
Мы также празднуем Пасху и много профессиональных праздников, которые не являются выходными днями и банки, офисы и школы не закрываются.
Другие топики по английскому языку на тему «Праздники России / Russian holidays» раздела Праздники / Holidays:
просмотров: 250120
Категория: Топики по английскому языку
Тема: Традиционные русские праздники и торжества
Every country has its own national holidays, but there are holidays that are common for many countries. People all over the world know New Year's Day, Christmas and Easter. In Russia New Year's Day is the most popular holiday, but in the West people pay more attention to Christmas.
New Year's Day is a family event in Russia. People begin to prepare for this holiday beforehand. Everything is rush and bustle. There is a great air of expectation. People decorate their New Year trees with tinsel, various baubles and coloured lights. They usually put their presents under the tree. When the Kremlin clock strikes 12, they see the New Year in.
There are dates and events in our country that are memorable to Russian people. They are the Victory Day, the Women's Day, the Day of Spring and Labour, the Independence Day, the Country Defendant's Day, the Constitution Day, Maslenitsa Besides, there are many professional days in our country: Teacher's Day, Miner's Day, etc.
Christmas in Russia is celebrated on January 7th. It is celebrated with all-night services in churches. The Country Defendant's Day is celebrated on February 23rd. This holiday is devoted to soldiers and officers and everyone else who defended the country or is in the Army. The Mother's Day is celebrated on March 8th. It is a day off. Men and boys try to please their mothers, sisters and wives by giving presents and flowers.
Maslenitsa marks the end of winter and the beginning of spring and Lent. During this festival people make pancakes, sing and dance traditional songs and dances and visit each other. Maslenitsa and Easter are movable holidays. Easter is the main Orthodox festival. People colour eggs and enjoy traditional Russian dishes. Churches hold special services on this day.
The Day of Spring and Labour is celebrated on May 1st. On this day people prefer to go outdoors and take part in all kinds of outdoor activities. The Victory Day is celebrated on May 9th. It celebrates the end of the Soviet Union's participation in World War II in Europe. People put flowers at the tombs of the soldiers who were killed during the war. The main ceremony is held in Moscow. People lay flowers in Moscow's Victory Park and at the Tomb of the Unknown Soldier.
The Independence Day is celebrated on June 12th. On this day Russia became an independent country after the break up of the Soviet Union in 1991. This is an official holiday. Some years ago people in Russia celebrated the Day of Reconciliation and Harmony on November 7th. Nowadays they celebrate the Day of National Unity on November 4th. It is an official holiday and a day off. November 7th is celebrated nowadays too, but it is not a public holiday. The Constitution Day is marked on December 12th in honour of the new Constitution of 1993. It is not a day off nowadays.
Топики по английскому языку

A Short History of Hair. Топик по английскому
(888)

Over thousands of years some very odd things have been done to hair. Here are some of them.
It's strange to think of tough soldiers having their hair curled, but that's what the Persians did over 2000 years ago. The curls were made by twisting the hair round hot rods. Their thick beards and moustaches were curled too.
In about 1150, during the…

Подробнее…

American Climate. Топик по английскому
(685)

Тема: Американский климат
The climate of the US is temperate, with four distinct seasons. The USA is a very large country, so it has several different climate zones.
The coldest regions are in the north and northeast, where a lot of snow falls in winter. The climate of Alaska is arctic.
All along the western coast, the temperature changes little…

Подробнее…

American English. Топик по английскому
(1042)

American English is one of the ways of speaking English. In the formation of American English the English-speaking colonists were brought into contact with different peoples who spoke different languages. Many words, derived from these languages, were added to the 17th-century form of English.
First in importance come the words derived from the…

Подробнее…

American Food. Топик по английскому
(844)

Тема: Американская Еда
When we speak about American food, we always imagine hamburgers and hot dogs, fried chicken and giant steaks. But in fact Americans eat every kind of food imaginable, even spaghetti and pizza. The expression «as American as apple pie» means something that is typically American, but even apple pie came from somewhere else….

Подробнее…

American Government. Топик по английскому
(702)

Тема: Американское правительство
The United States is a representative democracy. All government power rests ultimately with the people who direct policies by voting for government representatives. The nation's Constitution defines the powers of national and state governments, the functions and framework of each branch of government, and the…

Подробнее…

American Holidays. Топик по английскому
(736)

Тема: Американские праздники
The population in the USA is made up of people of different nationalities. Centuries ago they brought with them their native celebrations. Only some holidays, which are marked in the United States, were originated in America.
One of the greatest holidays is Independence Day. On July 4, 1776, the Declaration of…

Подробнее…

American People. Топик по английскому
(642)

Тема: Американский народ
America is a friendly country. People easily start talking with each other. When Americans meet people for the first time, they usually shake hands. When they meet friends or relatives they haven't seen for a long time, they usually kiss them. You can easily spot Americans abroad by their confident manners which come…

Подробнее…

American Political System. Топик по английскому
(681)

Тема: Американская политическая система
After the colonies in America had won the War for Independence, they became free and independent states, but they had a problem: they needed one strong national government. That's why in the year 1787 all the states sent their representatives to Philadelphia where they wrote the Constitution. The…

Подробнее…

American Shopping Habits. Топик по английскому
(1101)

Shopping is the favorite pastime of many Americans. They usually go to big shopping centers called malls that have a variety of boutiques, department stores and restaurants. Chain stores like J.C. Penney or The Gap are also found in malls.
Everything is indoors, so you can walk from store to store without worrying about traffic or bad weather. Malls…

Подробнее…

American System of Education. Топик по английскому
(879)

Тема: Американская система образования
Americans have always believed in education but in a special American way. The schools' first job was to turn millions of foreign children into Americans. Since they came from dozens of different countries, this was not easy. Schools had to teach the children to speak English, to love their new country and to…

Подробнее…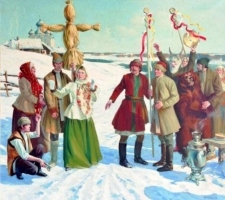 Every country has customs and traditions. I want to tell you about some holidays and traditions of my country.
Russians really love holidays. We usually celebrate them with a lot of food, presents and in big companies of relatives and friends.
There are three types of holidays in Russia. They are family holidays, state holidays and religious holidays. Let me tell you about family holidays first. They include birthdays, anniversaries, weddings and others. Each family has its own traditions of celebrating this or that holiday. For example, my family celebrates my birthday for two days. On the first day I celebrate it with my parents, grandparents, my uncle and aunt. The second day of celebration is only for my close friends. They usually come in a big group with a lot of presents. I like my birthday very much.
State or public holidays in Russia include Constitution Day, New Year's Day, the International Women's Day, May Day, Victory Day and Russia Day. During these holidays, people do not work. They spend time with their families and friends or go to the centre of big cities to celebrate there. Banks, companies and some shops do not work on these days either.
New Year's Day is the major holiday in Russia. We put up a New Year tree and decorate it with colourful toys and glass balls. The main fir-tree of the country is put up in the State Kremlin Palace. Small fir trees are put up in shop windows, in streets and squares, even on roofs of buildings. A lot of people like buying natural fir trees, others prefer plastic ones. Children like the holiday a lot. They can stay up late and then get their presents. At ten minutes to midnight on the 31-st of December families gather in front of the TV-set and watch the president making his traditional speech. After the clock on the main tower of the Kremlin strikes midnight, everybody says Happy New Year and drinks champagne. After that the time for presents comes. Russian children believe that Father Frost brings presents. After all the presents are given out, Russians have fun, drink, eat, and play games all night long.
Victory Day is a very important holiday for Russian history. On this day we remember those who protected our country from the German invaders during World War II. A great parade is held on this day in Red Square. Numerous war and patriotic films are shown on television. On this day people congratulate veterans and give them flowers.
The so-called religious holidays include Christmas, Easter and others. There is also a pagan holiday — Shrovetide or Pancake Day. These holidays are not state, so people usually work and study on these days. At Shrovetide, people see spring in, eat pancakes and burn a scarecrow, which symbolizes winter. Russian Christmas is celebrated on the 7-th of January, but there is no exact date for Easter, it is different every year.
Nowadays foreign celebrations are becoming more and more popular in Russia. They are Halloween and St. Valentine's Day. On Halloween Day some clubs organize parties and masquerades. St. «Valentine's Day is mostly popular with young people. They usually buy presents for their girlfriends and boyfriends such as chocolate and sweets and make greeting cards in the shape of a heart.
I like Russian holidays
Перевод топика: Русские праздники и традиции
Без перевода…
Vocabulary:
Questions: